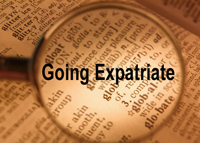 Ofttimes , I have been reminded of this word while in Singapore...
The official meaning(M-W) ,says someone moved from country voluntarily to seek new home abroad .
IF you go through World history (courtesy- Bill Bryson ) , Countries had prospered /are prospering only through Immigrants , There was phase in every country ,where a generation of hardwork intertwined with flux of immigrants (both high skilled and low skilled) , prospered their nation
Once they feel, they have achieved the consistent GDP, and have sufficient self pool of Talent, They take part in commanding Third World, oblivious of fact that they also contributed to growth .
Singapore is almost in transformation of that Phase, but they need consistent conflux of Skilled/non skilled people to meet their demands.
Some numbers which really poise developing India's role in Singapore's parabolic growth
$27 Billion : World Bank estimates of Annual Money remitted to India (largest in planet,US,SNG major Contributors )
25 million : Indians living outside country
$25 Billion : Singapore-India Bilateral Trade value last year
200,0000 : Expatriates in Singapore
3500 - Approx Number of Indian companies in SNG
150 - World's leading Banks in Singapore
27 - Average Age of Expat in SNG
184 - Number of Indian restaurants (per street directory.com )
2- Second largest investor in Indian economy (next to US)
3 - International Indian schools based in SNG
There are gripping numbers for china as well, We'l see that later (Rise of Dragon)
India and china have been bestowing these numbers consistently , for most of developed nations.
Singapore is only country in globe to have benefited most from both these countries' as they share a common culture and proximity to their homeland .
The Great challenge is that , to restore the talent and impart that skill to citizens here, and to stop them moving to more greener pastures,thereby foregoing their citizenship.
The Numbers arent that great , the Conversion rate of Work permit to PR to citizen is meagre 32 %
The fact that Mumbai/Chennai or Ningzia/Guanzhou will take decades to become Singapore of present time, is their Addon , and bythat time Singapore would have marched on its own .
And this is a Society which accepts that , Survival of fittest happens in across Expatriates .
To add to that Singapore has 4 national languages ,Malay,English,Tamil and Mandarin
Australia,UK, US ,and many South Asian countries have the same Issue, but their landscape offers them more, unlike Singapore .
Many Countries can take leaf out of Singapore's book ,when it comes to planning . If in 90's they planned what it should be today , Government has already planned for 2030 , but irony is that they need more Singaporeans rather expats who enjoy the fruit of this country and fly back home along with their remittance money . No Wonder Singapore PM wants
couples
to spend more time in Bed ..lol :)
If you look at this this in financial standpoint , They are pushing only well to do live here going forward , coz others simply cannot afford luxury offered here .
If the Expat Edifice is perturbed , then it might be bad if not worse for this country, so PR conversion or Citizenship rules should be flexible ,coz most of Expats are Asians and not Europeans :(
Despite all this unbending rules, inter race politics for improvement ,Singapore is the most happy city in Asia
Gong Xi -Syabas Singapore !!!!